Food For Thought...
STAKING
A lot of people like level stakes, and of course you can bet these using level stakes, in just over 12 months  the level stakes profit is almost +500 points, which is quite staggering and you won't find many, if any, other methods or services that produce this much in this time frame.
Now this is the really exciting bit!  I devised a staking plan, starting with only £200.00, that would have turned this small starting bank into over £1bn in a 12 month time frame.  Now of course in real terms the stakes would get too high to place the bets, but it shows how quickly you can grow a small bank.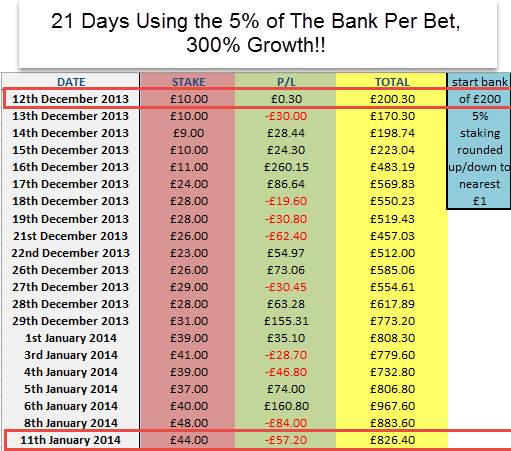 The staking plan is to stake 5% of your bank per bet (so 15% in total over the 3 bets),  rounding the stake up or down to the nearest pound/dollar.  Within the first 21 days, the starting bank increased from £200 to £826, and the stake from £10 to £44.
Less than a month later on betting day 55, the bank increased to £6201.48, and the stake £215.  This is a phenomenal return in such a short space of time!
It took only 34 days to be staking over £100.  Even if you stopped here and capped your stakes at £100, £100 x 500 points = £50,000!
Day 44 the stakes were up to £300.  £300 x 500 points = £150,000!
This really is such a powerful way to bet.  Now of course 5% per bet equates to 15% of your bank across the 3 bets, which some may believe is quite risky, and we all have different comfort zones when it comes to risk. 
If you divide 15 by 2 three times you'd get 1.88, so lets say 1.88% of the bank across three bets.  £1bn divide by 2 three times = £125,000,000.  So again, by staking just less than 2% of the bank per day, you'd still be making phenomenal profit, although it'd of course take longer to build up the stakes. 
Again the stakes would get unrealistically high and you'd have to likely cap them at a level you're happy with.
Final Thoughts
I see this as a genuine money making opportunity for people, especially those who are serious about growing a small bank into a large one.  Taking that into account, I can see the release of this being limited given the potential nature of the profits/staking etc.
 I'm not promising that you'll be rich or can give up the day job, but stick at it and watch your bank grow, whatever stakes you decide to use I'm sure an extra £10,000 - £100,000+ per year would certainly do most people and make life a lot more comfortable.
Whether you level stake, or use the 5% increasing stake, Value Plus Soccer, is a fresh exciting way to bet Football.
Here is the 7 and half months since release, £200.00 Start bank, staking 5% daily now at £3,587
Never touched our starting £200.00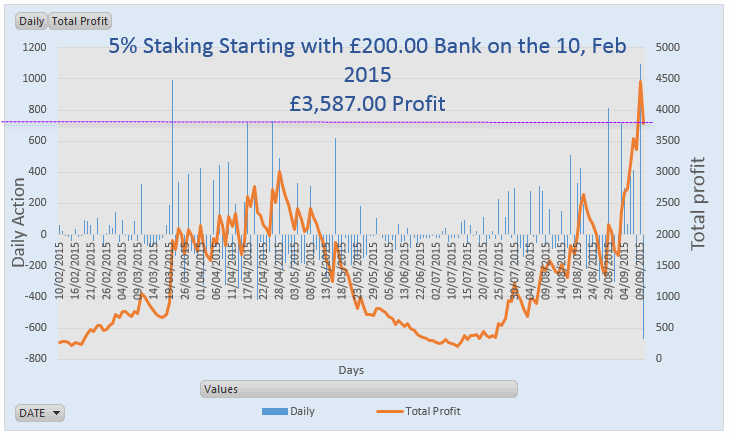 You will see the off season was not good for us but once the main season kicked off it is flying.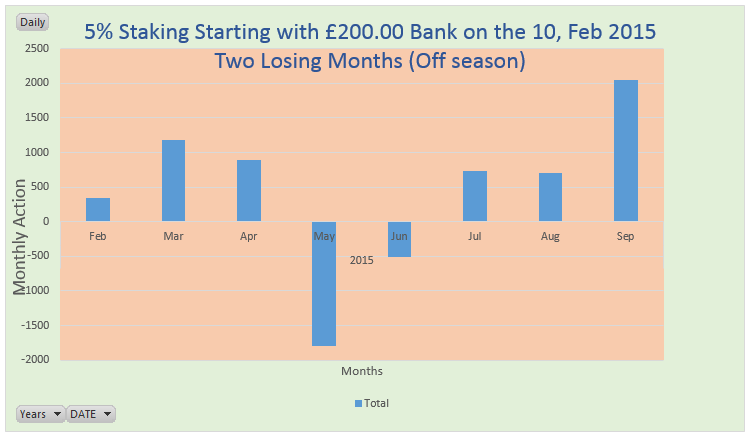 And if we look at the month by month, September only 10 days betting has returned over £2,000 Profit.
Remember this was started with a £200 bank, betting 5% or the balance each day.